Wakanda Forever is the movie of the year
Wakanda Forever was an awaited film that people have been eager for ever since the first movie came out in 2018. Black Panther has left a mark on many communities, especially the black community. The movie had scenes where being in an African country was not what the news displayed it as. They were rich, elegant, and had a variety of technology that were all made from the citizens' bare hands. T'challa's sister, Shuri, was a role model for me personally. She was strong, very intelligent. She was something that other black girls who were fascinated by STEM would adore. I'm not in the STEM field but I still love her for how remarkable she was. Black Panther is a movie that'll always live in our hearts like a burning fire, now with the new film dropping the flame has created a wildfire.

I won't pretend and say that I didn't doubt the movie's arrival at first, after Chadwick's death i thought the movie would be garbage. Not having him as our Blank Panther just didn't seem interesting to me and I didn't want to sit through a movie without hearing the original's voice once. I take all of my doubting words of choice back, the movie was astonishing. I didn't get the same shivers that I had when I watched the first movie but I did feel the overwhelming grin that spread across my face when I realized that I was in the theaters to watch a movie that I've been waiting for for such a long time. Wakanda Forever showed how the African country was suffering with sorrow due to their protector and king passing away from an undisclosed illness. They were vulnerable, it didn't help that there were world leaders plotting to destabilize the land more than before. When I saw this I felt grief, maybe it wasn't the same grief that they felt but it was there. We, the audience, could feel the absence of Chadwick Boseman but realize his presence all at the same time. They exceeded the expectation and brought people to tears before the movie even really began. The second effort to bring Black Panther back was not only fantastic but insane at the same time. The movie introduces Talokan's army and Namor (Tenoch Huerta), a society with a high vibranium supply. A tense scene that demonstrates their immense power is directed by Coogler. The enemies in this movie are a real threat to our heroes since they possess technology and might that can compete with Wakanda. Wakanda is now in a weaker position than ever before because it no longer has a Black Panther. It's amazing how the movie takes advantage of its setting to tell a tale in which the Wakandans are the unanticipated underdogs. Despite a few flaws, the tale unfolds in an engaging fashion. Recently, Marvel has had a distinctive feel to all of their new series/ movies. I would like to call Wakanda Forever a serious outing, giving us this rich multi-layered narrative with the production design being eye-catching, displaying rich technology of wakanda while introducing the underwater kingdom of talokan. The shot selections are deliberate and inventive, and the attention to detail is fun and intricate. I may sound pretty biased, I completely am by the way, but Wakanda Forever just felt like a restart. Being able to see the movie I've been waiting on for such a long time and feeling multiple emotions while watching made me realize how much of an impact movies like this have on me. Seeing the representation and how far the film industry has come with finally bringing people of color their heroic spotlight (even if they're cool villains, it counts). In my eyes (and heart!)Wakanda Forever was a 10/10. My experience was coming close to the time I first watched Black Panther, it was absolutely remarkable. The Black Panther franchise is extraordinary and it deserves to be praised even when the hype dies down because of the chokehold it had on the large number of black kids who finally got to see a bunch of people who looked like them on the big screen.
Leave a Comment
Your donation will support the student journalists of Blake High School. Your contribution will allow us to purchase equipment and cover our annual website hosting costs.
About the Writer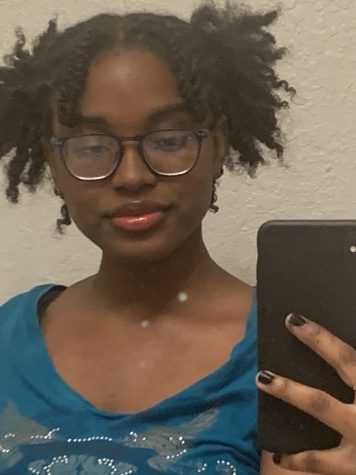 A'mari Shaw, Staff Writer
They/Them

Likes: Poison Ivy, Gaming, Sprite

Dislikes: Romance Movies, Snickerdoodles, Candy Corn

Favorite Writing Genre: Mystery

Hobbies: Researching,...