Have YOU Been Hooked Yet?
Review on the Netflix Original YOU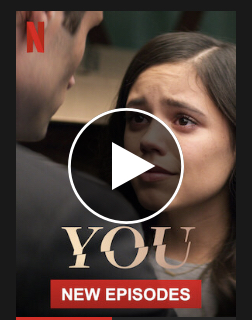 For the past couple of months, there as been a spectacular show on Netflix that has been big talk around the world. The Netflix original, "You" has been in the headlines ever since it came out. This show was released in late 2018 but it did not start surfacing the web til late 2019. Now it's considered one of the must see Netflix originals right now. Netflix is known for presenting original movies and sitcoms but something about the television show, "You" hits viewers differently.
Summary : A bookstore manager who crosses paths with an aspiring female writer is willing to go to the ends for this remarkable and gorgeous female. The crazy part about this whole story is that, he barely knows her. As you watch the show you will see the relationship between the two main characters being built. The main character Joe, The bookstore manager, played by Penn Badgley and the leading female role, Beck which is played by Elizabeth Lail.
The actors did a good job on portraying their characters. It felt like the roles were meant for Elizabeth and Penn. The hit show is already on its second season. Which came out Dec. 26 2019. Season two is even better than the first. Many students at Blake High school have binge watched the show and have been talking about it for days. A student named Jack Stocking said, " I've seen the show and it's pretty good. The acting is just outstanding and it's a cool show to watch on your down time." Another student named, Crystal Belcourt said, " I love that show. It is so interesting to watch. I've been up all night with my family watching the crazy plot twists that happen within the scenes." Many people around the school have seen and love the amazing story line of the television show.
Penn Badgley ( Joe) and Elizabeth Lail (Beck)
I rate this Netflix show a 10 out of 10. The plot is so interesting and it's just amazing watching the conflict and emotions between the characters. I can see the director's point of view in this production. It's such an amazing piece of work. I can see this show winning awards in the near future and I strongly believe that there will be a third season.
Leave a Comment