Bamboozled by Bamboozle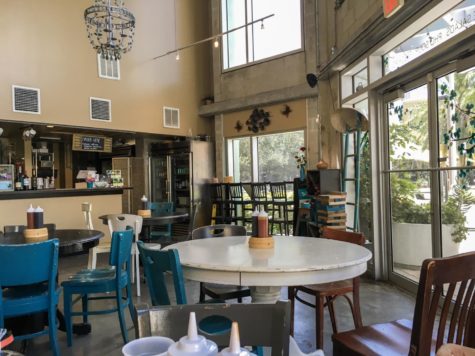 According to the very reliable Google Dictionary, Bamboozle is a verb used to describe the action of fooling or cheating someone. Yet the unique healthy Vietnamese eatery Bamboozle Tea Lounge redefines the word entirely. This cafe is a place where memories are made, and in the slew of faceless new channelside development, this is a big win for the small business.
The atmosphere was very intriguing. The vibe was definitely hipster, but not overwhelmingly so. I didn't feel pressured to act or dress a certain way. It was just a welcoming restaurant where anyone could go: a tredy legging wearing mom, a cute couple on their first date, that one guy in the corner furiously typing his memoir. Unlike most eccentric joints which use dim lighting, a dark color scheme, and bass heavy music to accentuate their urban venue, Bamboozle does the opposite. They implement use of almost only natural light, coming from one of many large windows with views of the channelside streets.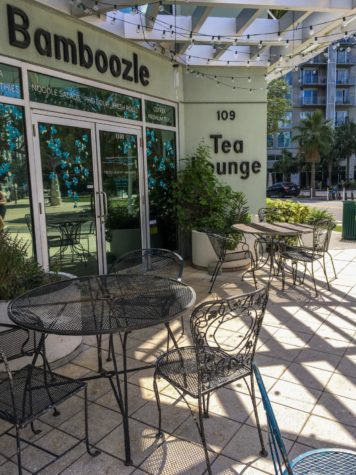 The color scheme is clean and simple: industrial light grey, pale beige, and a pop of exotic teal, used sparingly but effectively in creating the urban yet southeast Asian influenced.
Scattered around the store are cult classic games such as massive Jenga and connect four. There's even a microphone system for open mics. The happiness of fun nights lingers on the game pieces, a pleasant air settling over the restaurants.
Yet the main feature of bamboozle is not the charming décor. For such a small location, the food is extremely delicious.
The real focal point of the menu is pho. On the hand drawn chalkboard, the eye is drawn to the large cursive letters and illustration of "pho". It comes in a variety of flavors. Beef and chicken are among the most popular.
For good reason too. Although an appetizing, less than five dollar chicken pho is extremely rare, Bamboozle's pho is shockingly good. Served piping hot, w all of the hallmarks of a delicious pho: the crispy onion, soft chicken, and a delightful broth that adds a savory component. Sure, maybe you've had better pho, but not for the same price or the same intriguing atmosphere that only Bamboozle Tea Lounge can provide.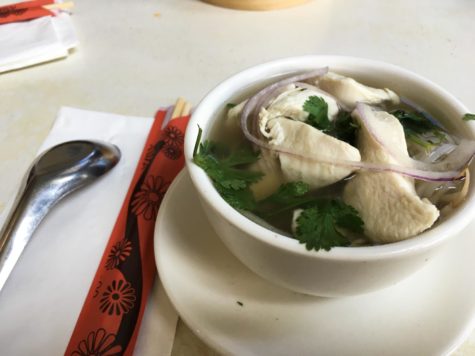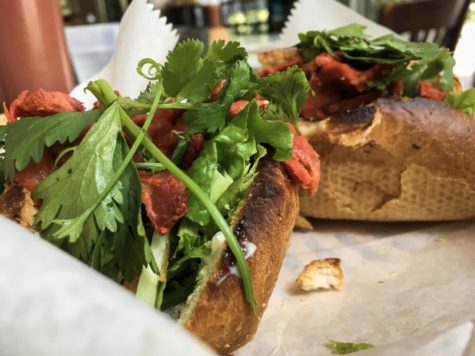 Bahn-mi is a Vietnamese sandwich, filled with some sort of savory meat and various veggies such as cucumbers and pickled carrots. At Bamboozle, the barbecue pork flavor is among one of the most popular. The pork was sweet to the point of disguising the original barbecue flavor. The vegetables resembled a coleslaw, which almost ruined the sandwichh for me. They seemed to be fillers, and didn't bring anything new to the plate. I was expecting a savory, smoky, barbecue sandwich and I got something completely different. It wasn't completely bad; the French baguette was astounding. Although bahn-mi is traditionally made with a Vietnamese bread, I appreciate the fusion.
Of course, with a name like Bamboozle Tea Lounge, it was no surprise that the tea was incredible. The rivaled the entree in terms of enjoyment. The lavender milk tea was not what I was expecting.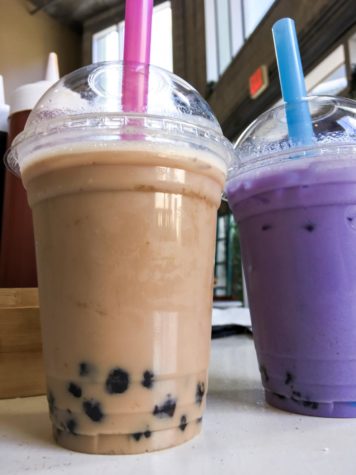 It was ten times better. I was expecting an overly saturated lavender fragrance, but was pleasantly surprised with the light an airy flavor, yet still perfectly floral. It tasted fresh and comforting. I also got the opportunity to sample the Taro flavored tea. My server described it perfectly: "kinda like cookies and cream". For those of us with a sweet tooth, I'm sure it would be the holy grail of milk teas. It was a bit overwhelming for me. I'll stick with the sophisticated lavender.
Each milk tea has the option of being served with Boba. If you've never had Boba, try it. If you've had Boba, try it. You've never had Bamboozle boba. It's a different experience entirely. Boba is small tapioca balls with a gummy consistency. Trendy mall boba is often served hard and chewy to the point of inedibility. However, Bamboozle's boba is the perfect texture. It's soft and plush, almost pillow-like in quality. It's easily the best boba I've had in the while.
Roughly, each food item costs from five to eight dollars, with drinks like milk tea and smoothies somewhere in the mix. I thoroughly enjoyed my experience. Everything was way above my expectations. The pho was near perfection. That lavender boba tea is one of those drinks you catch yourself reminising over days after that last sip. So go get bamboozled by Bamboozle, just not the google definition of it.
Leave a Comment