Looking back on giving bach
Orchestra packs up their instruments and talents and takes them to elementary schools and St.Judes to share their talents with the kids.
The Orchestra department used their talents to educate younger children on the art of music. This event was called Giving Bach (named after the famous composer Johann Sebastian Bach) . They ventured to St. Joseph's hospital and three elementary schools including Lee, Lockhart , and Clark. This event lasted two days but the effects of it lasted a lifetime.
Jason Jerald, the orchestra teacher, organized the event for the first time this year. The preparation was easier than he thought. Since orchestra is a club, they met on certain club days to really perfect their craft to make this event unforgettable for both the orchestra family and the youth they visited. "It was incredible…my goal was to affect lives of those we reached out to and i was curious to see how impacted they were," says Mr.Jerald. He plans on doing this next year for sure. They will hopefully make it to two more elementary schools and a nursing home. The more impact the better.
One special moment occurred at St. Joseph's for student Kat Peterson. The child she was chosen to work with had a illness called sensory integration disorder (an illness that makes one over feel or under feel sensations). Although this child usually is opposed to touching others, when Peterson showed her how to play her violin something incredible happened. The child, engulfed in happiness, gave Peterson a hug. "It was a good feeling, knowing that-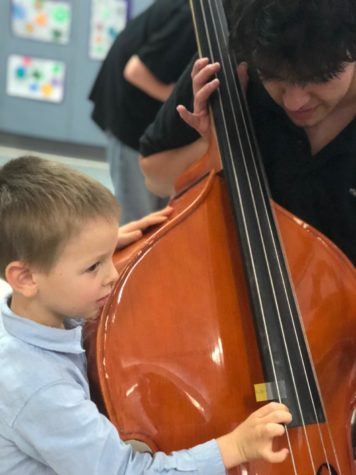 I was helping someone and impacting their future," said Peterson. This moment was not only life changing for the young child, but also for Peterson. The high school senior decided to change her college major from performance to music therapy. As for the child, Peterson hopes "…to see her someday go further with music. She truly had a gift."
This event changed so many young lives. "It was such an eyeopening experience to be able to see any young children smile and enjoy the universal language of music." says Olivia Harrington. Orchestra students gave it their best and it most definitely paid off. The children they worked with are now forever left with a memory of being inspired by Blake's orchestra students and their incredible musical talents. While Giving Bach may be over for now, the gift of music will live on in the hearts of the youth that they mentored.
View Comments (2)