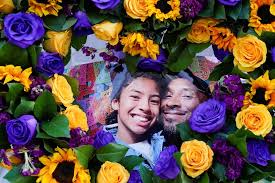 Kobe and Gigi Bryant: A Tribute
February 4, 2020
NBA legend Kobe Bryant (more commonly referred to as "Black Mamba"), his legacy/13-year-old daughter Gigi ("Mambacita"), and 7 others were killed in a fatal helicopter crash on Sunday in Southern California. The 9 victims were headed to Mamba Sports Academy in Thousand Oaks, California, for a youth basketball event. All that is known so far is that the pilot, who was also one of the victims, Ara Zobayan, had been given special privilege to fly despite the poor weather conditions. The last radio transmission received from Zobayan was him informing air control that he was climbing to 2300 ft to avoid a cloud layer. Moments later, he took a sharp left turn, ultimately plunging into a hillside, crashing and killing everyone on board. The helicopter was not equipped with any terrain awareness systems that could have alerted the pilot about the dangerous areas they were flying in. It also didn't have a black box, a device that records flight audio and data for use in the event of a crash in order to give investigators clues about the cause of the crash. As a result of the lack of safety systems, it may take longer to identify the exact cause of the crash.
People everywhere are mourning the death of Kobe and his daughter, and there have been beautiful and heart-breaking tributes made by many all around. The most hard-hitting ones, however, have come from the people and places they were closest to. LeBron James, who played alongside Bryant for some of his career, and recently passed Bryant for number three on the all-time scoring list, writes, "I'm not ready," as he posts a devastating goodbye Instagram post for his fallen brother. He expresses his grief and sorrow through his heartfelt words and talks about how he plans to carry on Bryant's legacy, saying, "I promise you I'll continue your legacy man,". James admits how tough it was trying to write anything, "but every time I try I begin crying again just thinking about you, niece Gigi and the friendship/bond/brotherhood we had,". He says that he had just heard his voice that morning before he left for L.A., "Didn't think for one bit in a million years that would be the last conversation we'd have". He concludes the post with, "There's so much more I want to say but just can't right now because I can't get through it," and a day later posted a heart-wrenching clip of the two embracing at a basketball game, with the caption: "my brother! I love you man,". James's goodbye posts are devastating, yet provide a glimpse of positivity and hope through promises of keeping his legacy alive.
Shaquille O'Neal, who was extremely close to Kobe and his family, gave a couple of painful goodbyes to the late legend. The two played on the Lakers together, where they had a notorious conflict which resulted in Shaq being traded from the Lakers in order to keep Kobe on. However, the two eventually buried the hatchet and became lifelong friends. Shaq, who lost his sister a few months ago, made a few crushing Instagram posts about Bryant and even opened up about how it's affected him. He recalls the death of his sister, "I haven't been sleeping," and the moment he found out about Kobe. He was with his son Shaqir and nephew Columbus working out, when his other nephew came in crying and showed him his phone which had the news about Bryant's death up, "I snapped at him," he says, "I said, 'Man, get that out of my face,'". With clear pain in his voice, he goes on to talk about their relationship, how their names will be forever linked to their conflict. He describes it as, "You got two strong-minded people that are going to get it done their way, that are going to say certain things," and, "The respect will never be lost,". He concludes his spoken tribute by talking about how they'll never get to joke around at his Hall of Fame ceremony, and how the one thing he wishes most is that he could've said something to him before he was gone. He shares how, despite how much he works, "I just really now have to take time and call and say I love you," rather than putting it off because you never know what's going to happen. He also made a series of Instagram posts, expressing his gratitude and love for Kobe and Gigi, his favorite moment between him and Kobe, as well as a compilation of videos of the two, with the caption, "Still can't believe you're gone,".
Gianna, better known as Gigi, Bryant, the second oldest of the Bryant children, as well as her father's legacy, was an unfortunate casualty of the tragic helicopter crash. The young aspiring basketball star is the only of the Bryant children so far to become heavily involved in basketball. She had always looked up to her father and gave credit to him for her desire to one day play in the WNBA. Until then, the hopeful teen played for the Mamba Ballers at the Mamba Sports Academy where she was coached by her dad until their shocking death. She and her father had an extremely close relationship, he would take her to Lakers, WNBA, and UConn games frequently, where the two bonded over their love for the sport. Kobe said she was a younger version of himself, and Gigi said that she just wanted to do whatever he did and spend all her time with him because they were best friends. All 9 bodies have been recovered, and it is rumored that Kobe and Gigi were still embraced when they were found. While this has not been publicly confirmed yet, it provides some reassurance that the two died in the comfort and safety of each other's arms. Gigi had always dreamed of going pro, but also always dreamed of attending the University of Connecticut, as well as playing for their women's basketball team. She was absolutely hellbent on playing for UConn. The day after the tragedy that resulted in Kobe and Gigi's death, the Women's UConn team, the Huskies, hosted a scrimmage against the US Women's National Team. The Huskies; however, did not let Gigi and her determination go unnoticed, as they made a beautiful tribute to her at their game, as well as on social media. The team draped a No. 2 Huskies jersey- Gigi's number when playing with the Mamba Ballers- over a chair on the team's bench, with a gorgeous bouquet of flowers on the seat. Before the game, the team also had the announcer speak about the passing of the two and paused their match to have a moment of silence. On their social media, they posted their sideline tribute, with the caption: "Mambacita is forever a Husky," as well as a picture of their moment of silence, saying, "Pausing to honor two members of our extended family," with the hashtag #Huskiesforever.
Bryant's wife, Vanessa Bryant, was finally able to speak out about the incident after almost 4 days of heart-breaking silence. She begins her Instagram tribute by thanking the people who have supported and prayed for the family. She writes that her and the rest of her family, "Are completely devastated by the sudden loss of my adoring husband, Kobe-the amazing father of our children; and my beautiful, sweet Gianna- a loving, thoughtful, and wonderful daughter, and amazing sister to Natalia, Bianka, and Capri,". She shares that they're crushed by the deaths of the other families, and share in their grief. The now-widowed mother says she can't even begin to describe the pain she's in, but she takes comfort in knowing that the two were aware of how loved they were. She mentions multiple times how she wishes they were here still, so she could hold them and kiss them and hug them forever. She goes on to talk about the future, "I'm not sure what our lives hold beyond today, and it's impossible to imagine life without them," as well as, "But we wake up each day, trying to keep pushing because Kobe, and our baby girl, Gigi, are shining on us to light the way,". The emotional mother requests time and privacy as they learn to function in this new world they now live in, one without their husband/father and daughter/sister. Bryant wraps up the emotional goodbye with support options, one for supporting the families of the other victims, by working with the Mamba Sports Foundation to create the MambaOnThree Fund, which you can donate to by going to MambaOnThree.org. The last support option is available in order to, "further Kobe and Gianna's legacy in sports," which you can help with by visiting MambSportsFoundation.org. The brave Vanessa Bryant's tribute to her late husband is heart-wrenching and deeply saddening, while also proving how strong she's being not only for the media but for her family and the families of the other victims.
These memorials are only a few of many heartfelt ones all around the world. Fans and non-fans everywhere are mourning and remembering the "Black Mamba" and "Mambacita" this week as the reality of their deaths sink in. Some Blake students are sharing their thoughts, recalling the moment when they found out:
"I was very very shocked and I didn't think it was real for a second until it hit me that it was, and I sat there with my family just thinking 'Oh my god is this really real?'" Emma Startin, 9th grade

"The first thing I thought of when I heard was that now when people say 'Kobe' when they throw something it's gonna hit different you know" Madison Parker, 9th grade

"I was surprised and I almost didn't believe it. It was all too random" Logan Rowe, 10th grade

"At first I didn't believe it until it was constantly popping up on the home page of my Instagram, but finding out that it was true was a shocking and unbelievable moment for me, but it just lets everyone know to cherish your loved ones while they're here because anything could happen at any time. Rest in Peace to Kobe, his daughter, and everyone else that was in the crash" Xavier Barton, 11th grade

"I'm not really that big of a fan of basketball or anything but he was an inspiration to countless people and when someone so well known passes so unexpectedly, let alone the rest of the innocent people that also lost their lives, it kinda takes a hit on all of us" Ryan DeAngelis, 9th grade